Calculating Unemployment Benefits in California
Unemployment, whether expected or unexpected, is something most people go through at some point in life. No matter the circumstances, it is often a stressful time. Navigating confusing unemployment benefit calculations only adds to the stress. Unemployment benefits are there to see individuals through until they can find work. Understanding eligibility, as well as the amount of monthly unemployment benefits one can expect to receive, can aid in budgeting and planning for the period of unemployment.
Who is Eligible for Unemployment Benefits?
An individual seeking unemployment benefits must first meet certain requirements for eligibility in the state of California.
The individual is willing and able to work.
He or she is actively looking for work every week.
The cause of termination or layoff was no fault of his or her own.
He or she is willing to accept work immediately.
It is important to note that if the individual quit his or her last job by choice, he or she must contact a representative to determine eligibility. Some instances of quitting are acceptable, but many are not.
If the person receiving unemployment benefits opts to participate in government-funded job training or continuing education, he or she is not required to look for a job while actively attending that training program. Likewise, if he or she is offered a job during that time, it is acceptable to turn down the job to continue with the training while receiving unemployment benefits. This allows the individual to take advantage of skills learned in job training.
Calculating Unemployment Benefits & Weekly Base Pay
Unemployment insurance benefits (UI) vary widely depending on the total amount of wages a person earned during the last 18 months. The benefits are paid weekly and can be estimated using California's online UI calculator. Weekly benefit amounts (WBAs) range from a minimum of $50 to a maximum of $450. An individual's UI weekly benefit, called the weekly benefit amount, and the total benefits available in his or her claim, called the maximum benefit amount, are based on the wages earned in the base period of the claim. To establish a valid claim, an individual must have earned at least:
$1,300 in the highest quarter of his or her Base Period.
$900 in his or her highest quarter and total base period earnings of 1.25 times the high quarter earnings.
A base period consists of 12 months, which each base period having four quarters that consist of three months each. Two types of base periods may be used to establish a claim:
Standard Base Period: the first four of the last five completed calendar quarters prior to the claim
Alternate Base Period: the last four completed calendar quarters prior to the claim
Other Factors That Impact Eligibility
A few other requirements must be met in order to be eligible for unemployment benefits.
An individual must be physically able to work.
The individual must be in satisfactory immigration status and authorized to work in the United States.
If the individual cannot work due to a disaster, he or she may be eligible for UI or Disaster Unemployment Assistance.
If it is determined that the person is not eligible for UI, he or she has the right to file an appeal.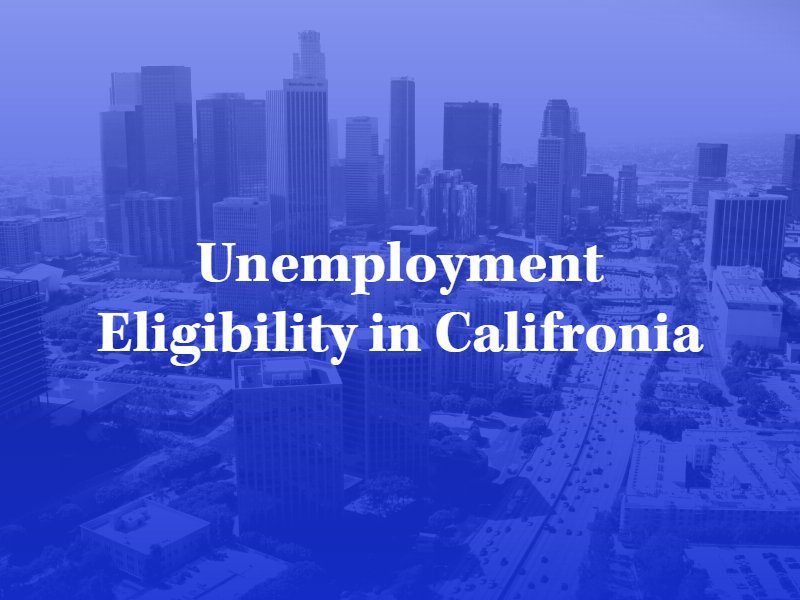 How Do I Draw Unemployment in California?
If you or someone in your household is unemployed, begin by contacting the Unemployment Insurance department in California (or the state where you reside). You can file a claim online or by phone. If prolonged disability is the reason for unemployment, apply for disability benefits through the Social Security Administration. Experiencing unemployment for any reason is extremely difficult. Understanding the laws in your state surrounding unemployment benefits can make planning for the future an easier task.